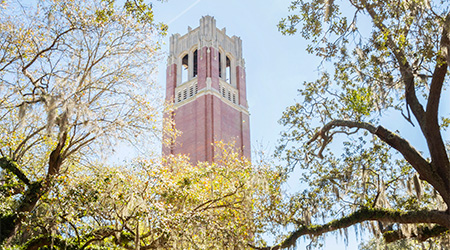 Utility vehicles help the university drive on greener grounds
University of Florida utility vehicles play a vital role in sustainable operations on the expanding campus.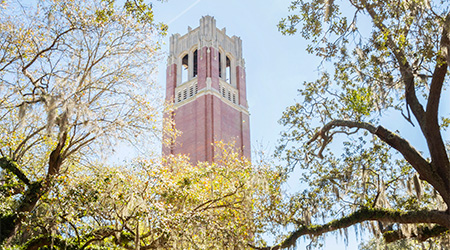 The University of Florida Gainesville recently unveiled a $1.6 billion infrastructure plan to modernize and expand the campus and its facilities.
The university's board of trustees approved the plan in December 2021, paving the way for a decade of projects that will add 1 million square feet of facilities.
The sprawling institution spans 2,000 acres and contains more than 1,000 buildings, so getting around the university grounds quickly and efficiently is important for its maintenance and grounds crews.
As the university grows and continues its commitment to more sustainable operations, maintenance and field crews are part of that goal. One area in which Florida is continually evolving is the facilities service team's approach to its utility vehicle (UTV) fleet.
An evolving fleet
With a sprawling campus and a facilities team of up to 950 employees, UTVs are workhorses in Gainesville.
"Most of our departments basically use UTVs in some way, building service or janitorial," says Allen Masters, assistant manager of building operations and maintenance. "We use UTVs for our supervisors, who monitor areas and buildings. They take them out every morning and park in an area, then can move between buildings with UTVs to move crew members and supplies.
The Masters team has about 30 UTVs in their fleet. It is a mixture of petrol, diesel and electric vehicles. The fleet also includes electric cars. UTVs help the facilities team reach areas that trucks cannot reach. They also help custodial staff adapt to changing campus needs.
"Accessibility is an issue for us as the university moves to a more pedestrian-friendly campus," says Masters. "For us, this means that many of the roads that used to serve the buildings will no longer exist.
"We will not be able to drive (trucks) within 100 meters of buildings and unload filters and building materials or tools. Upgrading to a smaller UTV and possibly towing a trailer is one of the options we are considering expanding in order to continue to serve the campus efficiently.
Increasingly, petrol and diesel machines are being replaced by electric vehicles. The trend towards electricity is part of the university's goal of achieving carbon neutrality.
"It's something we're looking for, and the industry seems to be moving in the same direction," says Masters. "We have now found a few manufacturers that now offer standard UTVs available in an electric model. It's the best of both worlds and helps us achieve our goal of carbon neutrality.
The university's shift to carbon neutral is also reflected in other vehicle purchases where UTVs might not meet the needs of the department.
"A lot of the vehicles we buy are small diesel vehicles," says Masters. "These are suitable when we need power to pull trailers and other equipment. To help with sustainability, we also use a biodiesel fuel blend.
"Our Green Purchasing Program maintains a list of more sustainable vehicles, and many of them are now hybrid or fully electric."
Specification needs
Weather conditions and campus infrastructure contribute to the challenges Masters face when specifying new UTVs.
The number of roads that UTVs are driven on is dwindling, but there are still enough of them, and the campus is so large that many machines regularly run on the streets instead of grassy areas or paths designed to accommodate smaller vehicles. Roads can create more wear and tear on vehicles.
"We have found through trial and error over the years that many specific UTVs perform better than others on paved surfaces," says Masters. "Some models can't handle long road trips because they were originally designed to run them off the road. It's a matter of how we use them and something we have to overcome.
When specifying UTVs for use on pavement, he pays close attention to transmission types and tires.
A longer lasting transmission is required for pavement vehicles due to their tendency to run longer and at higher speeds than an off-road UTV. The specification also includes a tire evaluation so that road-use UTVs are equipped with the proper tires so the machines run more efficiently.
"We bought models that perform better on the roads," says Masters. "With this information, we are able to specify this specific model, which has narrowed down the brands we want to buy."
With hot and humid Florida weather for most of the year, a respite from the sun is a must for the fleet.
"Some of the options we started looking at are hard cabs and doors," says Masters. "We've tried zippered doors and windows like you see on golf carts, but the (ultraviolet) rays and heat here just deteriorate the plastic. The guys are outside at 95 degrees and 100% humidity during the summer. We try to find some with the air conditioning so that when they take a break or move to another location, it gives them a chance to cool off. That's the only time they can really cool off for a few minutes before warming up again.
Department UTVs must also be able to tow other equipment or have dump beds so operators can haul brush, rocks and mulch.
Strobe lights and emergency alarms are also essential for UTVs on the crowded campus.
"We have strobes on them for visibility," says Masters. "We have closer interaction with pedestrians, skateboarders, e-scooters and bicycles, so it's important to just be more visible and safer for those people on campus. There's a big effort to make sure we have backup alarms and similar options."
Fleet management
University grounds management teams demand a lot from their UTVs, from hauling mulch and staff to emptying trash cans and safely patrolling campus. On a changing campus like the University of Florida, UTV use is constant, so it's important to have fleet maintenance and replacement plans in place.
The university's facility services include an in-house maintenance staff that takes care of many common issues.
"We have a certified vehicle repair shop in Facility Services that performs vehicle repairs on all university vehicles and performs annual vehicle inspections to ensure safe operation," says Masters. "We also provide fuel for campus vehicles."
The Masters team pays close attention to the condition of UTVs before deciding when it's time to replace a vehicle instead of repairing it.
"We have a vehicle replacement plan," he says. "We use a life cycle analysis, the age, condition, overall use of the vehicle, how many times it's been in the shop and what kind of repairs it's done, versus at replacement cost.
"Once we get to the point where the cost of repairs is too high, that vehicle will go on the replacement list. There are times when we only need specific equipment used for a specific purpose. They are usually unique pieces. »
As 2022 unfolds, the University of Florida campus, like many others across the country, is battling the COVID-19 pandemic. With all the activity on the Gainesville campus due to the $1.6 billion construction program expected for the foreseeable future, the Masters team will play a major role in the growth.
"Funding for deferred maintenance is our biggest challenge right now, but the university has now committed to an influx of funds to help with that," Masters says. "This influx will help us enormously to maintain our position among the top five public universities."
Dave Lubach is the Facilities Market Team Editor. He has six years of writing experience in the facilities management industry.
---
---
---
Related Topics: