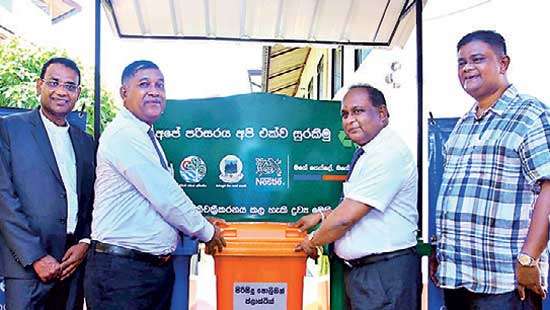 Nestlé Lanka supports Rathnapura schools in waste management – Other
---
Presentation of waste management units. From left to right: Radhini De Costa, Assistant Vice President, Communications – Nestlé Lanka; B. Egodage, Vice President, Corporate and Regulatory Affairs – Nestlé Lanka; IW Lal Somathilaka, Principal, R/Thiriwanaketiya College; Sepala Kuruppuarachchi, Provincial Director of Education Sabaragamuwa; Tyrone Attanayake, Mayor, Rathnapura City Council; W. Wickramasinghe, Deputy Director, CEA

Dharmapala College students reciting Environmental Commitment
To help schools better manage their waste management practices, Nestlé Lanka last week donated waste management units to schools in Rathnapura district.
The donation was made through the school waste management program implemented in collaboration with the Central Environment Authority (CEA), the Ministry of Education and local town councils.
The program aims to inspire positive behavior change in the future generation of Sri Lanka.
Launched in January 2020 as part of Nestlé Lanka's efforts to contribute to a waste-free future, the program will be rolled out to 250 schools across the country this year, reaching more than 400,000 children.
The school waste management program has been guided by school authorities and ensures that waste on school premises is segregated and disposed of responsibly.
CEA officials work with school environmental societies to raise awareness of proper waste disposal and management and encourage students to act as environmental ambassadors by spreading the word. Subsequently, the competent Municipal Council in the area ensures that the waste is collected and sent for recycling or energy recovery as far as possible.
Commenting on the programme, Mayor of Rathnapura City Council, Tyrone Attanayake, said the effort was imperative as it lays a solid foundation for encouraging behavioral change among schoolchildren – Sri Lanka's future generation.
"Waste is a valuable resource if disposed of responsibly. There is a lot to do with sorted waste, but unfortunately most people lack awareness," said Attanayake.
Meanwhile, Sabaragamuwa Provincial Director of Education Sepala Kuruppuarachchi said it was a pleasure to be part of this public-private partnership which focuses on action and awareness on one of the most pressing environmental issues. most important in the country.